August is almost over.
And even writing that out doesn't feel like it's real. But it is; the month is over next week, then September comes and summer fades into the rear view mirror, leaving it's fingerprints in our memory, waning like a summer tan. It has truly been an amazing and beautiful summer.
But it's been a glorious August in Minnesota, a perfect end to this fleeting season. Despite June's cool weeks, July roared in with it's searing heat and choking humidity, and storm after storm after storm charged across the sky, darkening the hours, drowning us in rain. And what a delight too. I didn't water my grass once this summer and it's stayed lush and green through all the record-breaking heat. That's pretty rare here. And the abundant rain has turned our surroundings in to a thick rainforest of growth, with a fresh earthy smell that's nearly intoxicating. August ushered out the heat, and brought us gorgeous sun, endless blue sky and cool nights with fresh breezes. I've just fallen in love with August this year. If summer in Minnesota was like this month has been, no one would ever see the need to complain.
Then there's the bounty, the amazing bounty sagging the tables at the Farmers Markets every week. It's staggering how much produce is weighing down those tables, with over-loaded trucks parked behind, waiting to dispel their goods. I can take a $20 dollar bill and bring home two big sacks stuffed with food each week. My last trip was so fruitful that I could hardly stagger to the car with my load. And for only $28 dollars, I could have collapsed our kitchen island with the weight.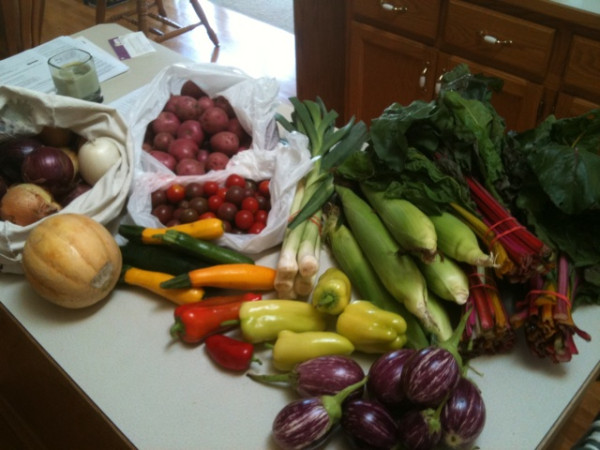 The one item I've been a bit disappointed with this season has been the sweet corn. I've had more misses with my ears than I've had wondrously sweet experiences, and one farmer I spoke to said that the intense heat and heavy rain can cause such quick ripening of the corn that it's difficult to get it at that sweet tender state that so many people like.
A recent batch of corn that I purchased was a bit too starchy and dry for my liking, but mixed with red pepper, dark green kale and a few handfuls of good cheese, it turned in to a delightful dish that took the focus off the chewy over-ripe corn.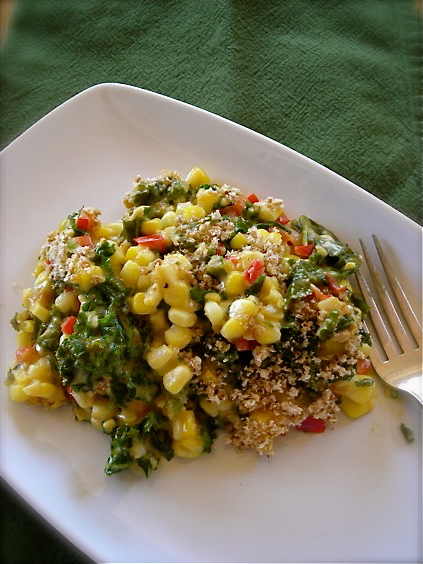 This cheesy baked dish was so yummy, rich with fresh summer flavor. I'd love to try it again, adding more vegetables to it, maybe change the cheese to something stronger, or try it with chard since I seem to have glided up and over the moon for this particular dark leafy green. Did you see in that photo that I bought THREE bunches of it? I am crazy.
But that's what I need to do; dive head first into these seasonal delights and enjoy them while I can. Like summer, and August, they'll be fading all too quickly, and I'll be back in the produce aisle of the grocer, surveying my options, rubbing my arms from the cold, wishing I was dodging sunlight, an overstuffed sack slung on my bare shoulder.
Cheesy Corn and Kale Bake

1 red bell pepper, diced
1 medium leek, sliced thin (or an onion, if you wish)
2 garlic cloves, minced
1 large bunch of curly leaf kale, washed and spun dry then chopped
4 c. fresh corn kernels
2 T. unsalted butter
2 T. AP flour
1 c. milk (i used soy)
1 c. freshly grated cheddar cheese (or mix it up a bit with pepper jack)
1 T. cream cheese (I used sour cream)
Pinch of cayenne pepper
Salt and black pepper to taste

Preheat oven to 375°

In a deep cast iron skillet, or other oven proof skillet, sauté the leek and pepper in a bit of olive oil until soft. Add the garlic and cook, stirring, for about a minute or two. Add in the kale and stir until it's coated with the oil, then cover the pan and cook for about 5 minutes, stirring once or twice. Scrape veggies in to a bowl and set aside.

In same pan, melt the butter, then add the flour and stir to make a roux. Cook, stirring, for about two minutes to cook out the raw flour taste. Slowly whisk in the milk until smooth, then cook, stirring constantly until the mixture is very thick. It may look a bit reddish brown from the pepper, but that's just fine. Mix the cheese in a little at a time until you have a nice cheese sauce, stir in the cream cheese and cooked pepper mix, and then the corn kernels. It will be very thick. Season with salt, pepper and the cayenne and spread it evenly in the pan. Place the pan, uncovered, in to the oven and bake until hot and bubbly, about 30 minutes.
Original recipe is from The Kitchn website; I made heavy modifications.
You can use frozen corn in this if you wish, just be sure to run it under cold water to thaw it out, and shake all the extra moisture out before adding it to the cheese sauce mixture.