I spent a significant amount of time this past summer wandering up and down the aisles of our local farmers markets, as many, many people do. But I don't venture in to the larger markets in Minneapolis or St Paul, instead preferring to go to the small satellite ones in the suburbs. I can always find what I needed, and as was the case this past year, I found a whole lot more than I ever anticipated.
Each summer for the last 5 years it seems some type of theme arises from a particular food I discover and experiment with; it might be a food type, such as the summer of 2007 when I learned a great deal about cooking with whole grains like quinoa, millet, bulgur and a multitude of colorful rice varieties. Or it might be a particular food, like in 2008 when I took the humble burger in different directions, and 2009 found me falling in love with beets and getting my fill of learning about those. In 2010, what I experimented with was a killer job. Cooking went by the wayside last year, but this summer, with a better schedule and actual time off during the week, trips to the Farmers Market were a must, and in those weekly visits, I came across a multitude of vegetables that I'd never tried or even considered prior to this past June.
And what was different about this year was the increase in the need for vegetable based meals, since we walked away from meat consumption in May and never looked back. So stretching the imagination and reaching for foods that were unfamiliar was going to have to stick. I needed to expand my palate, and this was the perfect spot to do so.
If I could pinpoint one item that I really learned a great deal about this year it would be Greens. Kale and chard crossed our plates and made appearances in our kitchen nearly every week. Enormous bunches of chard could be purchased from the market for a dollar a piece and easily could feed us for 2 meals or more, depending on what I did with it. I discovered the joys of making Chard Chips, and fell in love with a simple chard side dish, sauteed with a few cloves of garlic and simmered gently to bring out it's deeply rich and slightly sweet flavor. I love Rainbow Chard for it's colorful stems.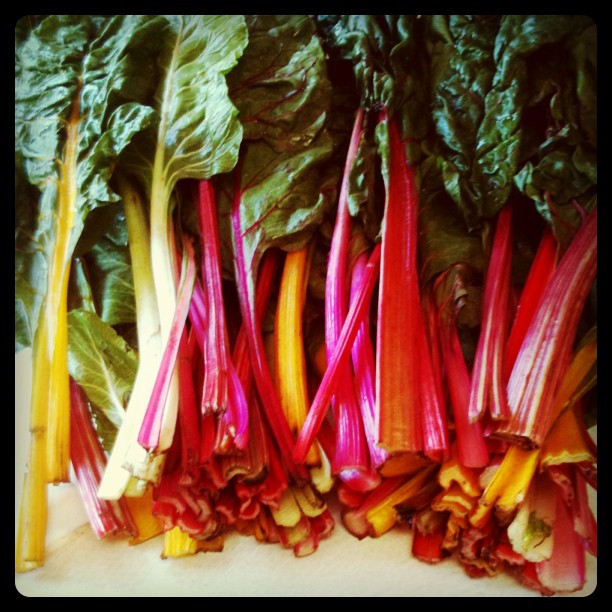 Then, in one visit to the market in Maplewood, I came across a giant bunch of greens on a farmers table and asked curiously "What is this?"
"That's Sweet Potato Leaves." She said, smiling widely. "They're like spinach, only a little sweeter."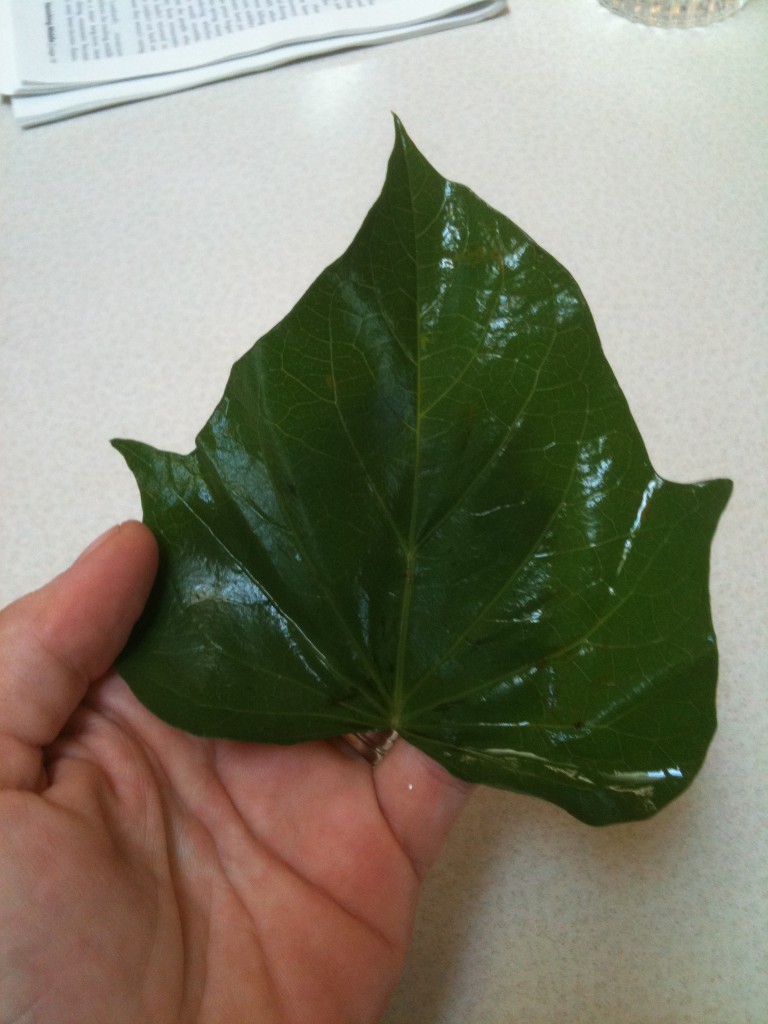 Here was yet another enormous bunch of greens, and for a dollar as well. What did I have to lose? I handed over a buck and placed the bunch in my sack and as I turned away, the farmer said with a smile "Those are going to become your favorite green!!" To which I simply smiled and said 'Thank you!'
She was 100% correct. I stripped the leaves that evening and sauteed them for dinner and with the first bite, I was raving over how tender and amazing they tasted and couldn't wait to return the following week for more. Also known as Kamote, or Camote leaves, and as other dark leafy greens they are loaded with vitamins and minerals like iron, magnesium and calcium, making them a good choice for healthy eating. Each week I could, I returned to that market, and that farmer and scooped up large bunches of Sweet Potato leaves. While many cultures also eat the stems, I consumed only the leaves, tossing the stems in the garden to compost. Imagine my surprise when I noticed after a few weeks that those stems had taken root and were growing new leaves. I managed to get a small crop of my own Sweet Potato leaves from my garden before the first frost in September. Now that's a nice bonus.
I've been on the fence with Eggplant for a while now, fighting back and forth with it, hoping to fall in love even when I fall on my face, but for some reason I keep trying and I'm really glad as I have discovered more ways this summer to enjoy Eggplant. I came across Rosa Bianca eggplants too, and was immediately drawn to their unique colors.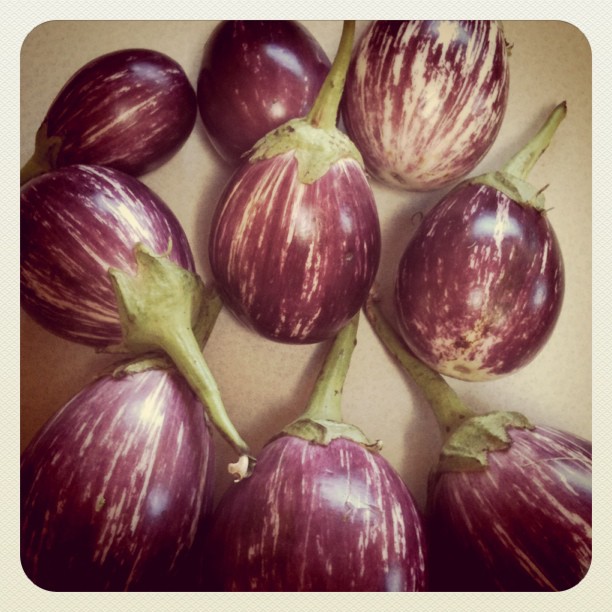 But I also came across a completely new (to me) eggplant; a tiny orange one with grooved sides that looked a lot like a mini pumpkin.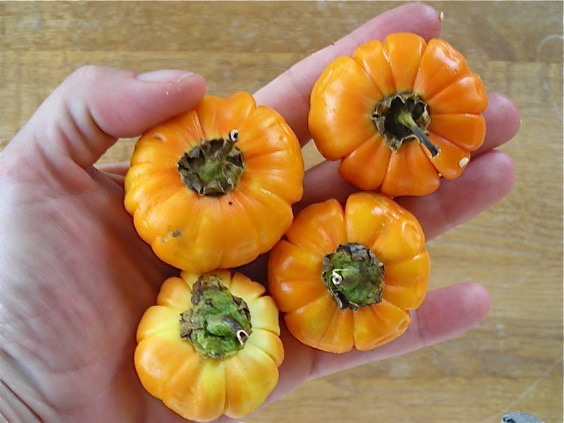 The farmer told me that they could be roasted like regular eggplant. What she didn't tell me, and what I discovered a bit too late was that this little orange variety is very bitter and is considered a delicacy in SE Asian cuisine. One bite and I had to admit that I'd found a vegetable I couldn't eat.
A few more unique vegetables crossed my doorstep this summer, due to a relationship with Ocean Mist Farms. I was contacted by a representative of Ocean Mist back in July and asked if I was interested in some fresh Fennel to try. While Fennel isn't really anything new, it was not a vegetable I'd done much with and while I did like it, the cost had always been prohibitive. I agreed to the Fennel they would send, and soon a case of it arrived at my house, holding six large, aromatic and superbly fresh bulbs. We had a wonderful time enjoying the light anise flavor, roasting them with potatoes and carrots. Fennel becomes so nicely sweet when roasted. I also added fennel to a slaw salad I made, loving it's crisp texture and added taste to a favorite summery dish.
Recently, Ocean Mist contacted me again, offering to send me a vegetable I'd never even heard of: Cardones. Curiosity won me over, and I accepted. I had no idea what I was going to receive.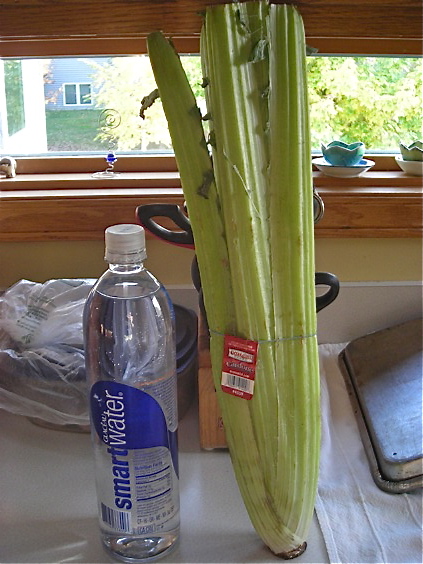 Cardones, or Cardoons, are very popular in Italy, come from the Thistle family and are considered a distant cousin of the Artichoke. They look like mutant celery, but they cannot be eaten raw. The internal part of the plant has slim silvery gray leaves that look like sage. And they are HUGE. Check out those stalks!!!
This was nothing like I'd known before; and I was initially at a loss as to what to do. After some research online, I decided to make a creamy cardone soup out of one of the bunches. They require a long simmering time, and mixed with onion and leek, it offered a warm and fragrant scent to a chilly evening. The finished soup was smooth, mild and creamy, and as we discovered, tasted amazing with some leftover wild rice pilaf stirred in to it.
The next two stalks I roasted, and this method was the best tasting. I tossed the slices with a bit of olive oil and a splash of an asiago caesar salad dressing I had on hand and after a nice long turn in a 425° oven, they were tender and flavorful enough to toss with pasta. The experience with Cardones was really interesting; I kept expecting celery flavor, but instead got something so unusual. It was like artichokes but richer. Cardones are similar to Artichokes in that they will discolor when cut apart, and should be soaked in acidulated water to prevent brown spots from forming. I did discover too, that they will change color even after cooking, and the roasted pieces I had in the refrigerator turned a strange shade of greenish gray after a day. The taste does not change though, even when they look just a bit unappetizing. I'm sure they have a lot more use in the kitchen, and maybe I'll come across them again so I can experiment more.
WHAT NEW VEGETABLES ARE YOU LEARNING ABOUT?
ARE THERE VEGETABLES YOU EAT NOW THAT YOU NEVER THOUGHT YOU WOULD LIKE? 
DISCLAIMER:
Ocean Mist Farms provided me with both the case of Fennel and the Cardones free of charge.
I have no obligation to post any feedback or information on them, and all opinions are my own.