This has to be one of my most favorite recipes.
It's rich, delectable and creamy….. I could go on and on. It would be equally welcome, that wealth of rich Boursin cheese sauce, when mixed with silky braised kale or chard too. Or! Or! Take an entire rainbow of vegetables and roast them, dress them to the nines with this coat of luscious sauce, topped with the toasted Panko crumbs and then a few minutes under a broiler to sputtering browned perfection and you've got a side dish worthy of any celebration. Or, just an ordinary dinner at home.
Believe me, there is nothing boring about this dish. Nothing run-of-the-mill, or plain or anything. This is one of those weapons in your recipe arsenal that you pull out for the good friends who grace your table, the ones who kick off their shoes without being asked, who bring wine while wearing faded blue jeans because you just don't need to be fancy with your closest companions. And when they lift the first fork to their mouths, tasting the herbs, the seasoning of the succulent Boursin cheese, you know that smile that forms on their face tells it all. It's impressive, yes. But simple and quick and anyone can make it. And it leaves you looking like a superstar, because it's just that good.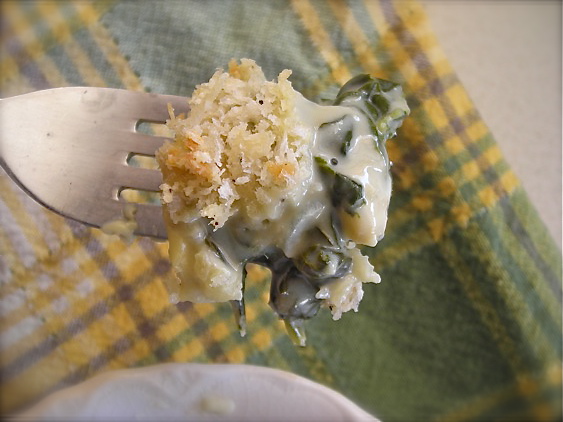 Boursin Spinach Gratin

1 bunch fresh spinach, destemmed, washed well and spun very dry ( sub in kale or chard too)
1 t. unsalted butter
1 small shallot, minced
3 T. AP flour
1-1/2 c. whole milk (alternately, use soymilk- it works perfectly!- or equivalent of 2%, or 1 c. skim & 1/2 c. heavy cream)
1 container Boursin Herb and Garlic cheese,  5.2oz
3 T. fresh shredded parmesan, or other hard cheese of choice
1 t. each fresh squeezed lemon juice and fresh grated lemon zest
2/3 c. panko bread crumbs
1 T. melted butter
Salt and pepper to tasteHeat oven to 425°In a medium oven proof skillet, melt butter and add shallot, cooking and stirring until soft, about 5 minutes. Stir in flour to coat and then slowly begin whisking in milk until fully incorporated. Stirring constantly, bring sauce to a gentle simmer to thicken slightly, then add in Boursin cheese, a small amount at a time, until all of it is blended into the sauce.Drop a handful of spinach leaves into sauce and stir to coat. Add more, a handful at a time, until all spinach is mixed well with the sauce. Bring to a simmer, cover and simmer for about 5 minutes. Mix panko, salt and pepper and melted butter, sprinkle over top of spinach and place pan, uncovered, into oven. Bake for 10 minutes, until bubbly and crumbs are browned. Remove from oven, allow to cool slightly (remember that pan handle is HOT!) and serve immediately, sprinkled with parmesan cheese.Alternately, mixture can be divided among smaller ovenproof ramekins to be baked. Divide spinach into ramekins before topping with bread crumbs. Baking time will be shorter.
What's on YOUR plate this month??