There's almost as much talk about re-purposing leftovers from Thanksgiving as there is talk of how to prepare the meal. Everyone loves something unique about the Thanksgiving meal; for one person it's the succulent bird, for another they can't get enough of the stuffing (or dressing, depending on regional dialect). Someone else loves the potatoes, or the vegetables, or sweet potatoes or dessert.
Thankfully, it's a meal with appeal. To everyone. One of my favorites aspects of Thanksgiving is the stuffing. I do love a good aromatic, herb infused stuffing and every year I create a masterpiece with cornbread, fresh croutons and herbs, lots of celery and onion and a good dosing of broth. Rarely is it ever the same twice. But this year, because of my work schedule, I made a purchase of prepared stuffing from the deli at the grocery store where I work. I had reservations about this, especially with the final price, but for me, I've worked every day for the last week straight. I've been on my feet constantly, getting home well after dinner. That's life in the grocery business. The last thing I want to do tomorrow is rise early in the morning tomorrow and cook all day. Cooking is a pleasure for me, but when I'm worn out, it's really the last thing I want to do. My boy is willing to help me out this year, and with him being home all day, I can assign him tasks to make tomorrow easier for all of us. Still, I bit the bullet and bought some stuffing to lessen the task list.
But that stuffing, back to the topic at hand, is still a favorite for leftover use. I love to take a handful of it the next day, press it in to a cake and sear it in a pan for breakfast, topping it with a cooked egg. Mashed potatoes are good for this too. Dredge a potato patty in seasoned flour and sear in butter until a golden crust forms. Then flip it and repeat on the other side. A frittata of turkey and any leftover roasted vegetables is another favorite. One year I made a huge pan of roasted root vegetables and had plenty left, so this was breakfast the next day and it was divine.
Cranberry sauce, or any kind of relish or chutney made with cranberries turns in to a delicious spread for bread when making a turkey sandwich. Leftover dinner rolls can be split, toasted and topped with slices of turkey, add a spoonful of cranberries to make an excellent lunch.
Of course, the most popular option for leftovers is soup, especially if you've got some wild rice on hand. Turkey wild rice soup was a mainstay in our house after Thanksgiving, always a hearty and creamy welcome to the inevitably chilly days that follow. Got a good White Chicken Chili recipe? Try using turkey instead. Add turkey to regular chili as well, or make a Turkey Tetrazzini. How about Turkey Lasagna? Turkey Enchiladas?
I've made a delicious pasta salad with turkey as well, stirring in a spoonful or two of cranberries for that perfect tart flavor. My most favorite Curry Chicken salad is also delicious with turkey.
WHAT'S YOUR FAVORITE WAY TO RE-PURPOSE YOUR THANKSGIVING LEFTOVERS???
Curry Cashew Chicken Salad


2 c. cooked chicken
1/2 c. dried cherries, cranberries or raisins
1/2 c. chopped roasted salted cashews
2 green onions, finely chopped

Dressing:
1/2 c. mayo or preferred creamy spread
2 T. mango chutney or fruit spread of choice
2 t. curry powder
2 t. red wine vinegar
1/4 t. fresh ground pepper
1 t. dijon mustard

Combine chicken, fruit, nuts and onion in bowl. Separately, mix together dressing ingredients and stir until combined and creamy. Pour over salad and stir thoroughly to coat. Chill. Eat.

Turkey & Dried Cherry Pasta Salad

1# pasta of choice
2 c. cooked turkey, chopped
1 c. dried cherries (sub cranberries, or even raisins)
1/2 c. minced red onion
1/2 c. minced celery
1/2 c. chopped toasted almonds

Dressing:
1/4 c. powdered sugar
2 T. white vinegar
1-1/2 c. mayonnaise
2 T. cold water
2 T. poppyseeds
Salt and Pepper to taste

Combine cooked pasta, turkey, dried fruit, onion, celery and almonds in a bowl. Whisk dressing ingredients together until smooth and pour over pasta mixture, tossing to coat. Serve topped with extra almonds, if desired.
What's on YOUR plate this month??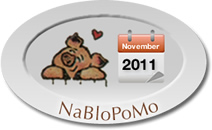 {{there's only 7 days left of Nablopomo 2011!!}}