March gave us some exceptionally warm days, but the past few weeks haven't been quite as toasty. Once the sun drops lower in the sky, I'm still shrugging in to sweatshirts and occasionally drawing wool slippers on my feet. I've got soup on the mind, with the chill in the air, but not the hearty simmering pots that I dreamed of in January.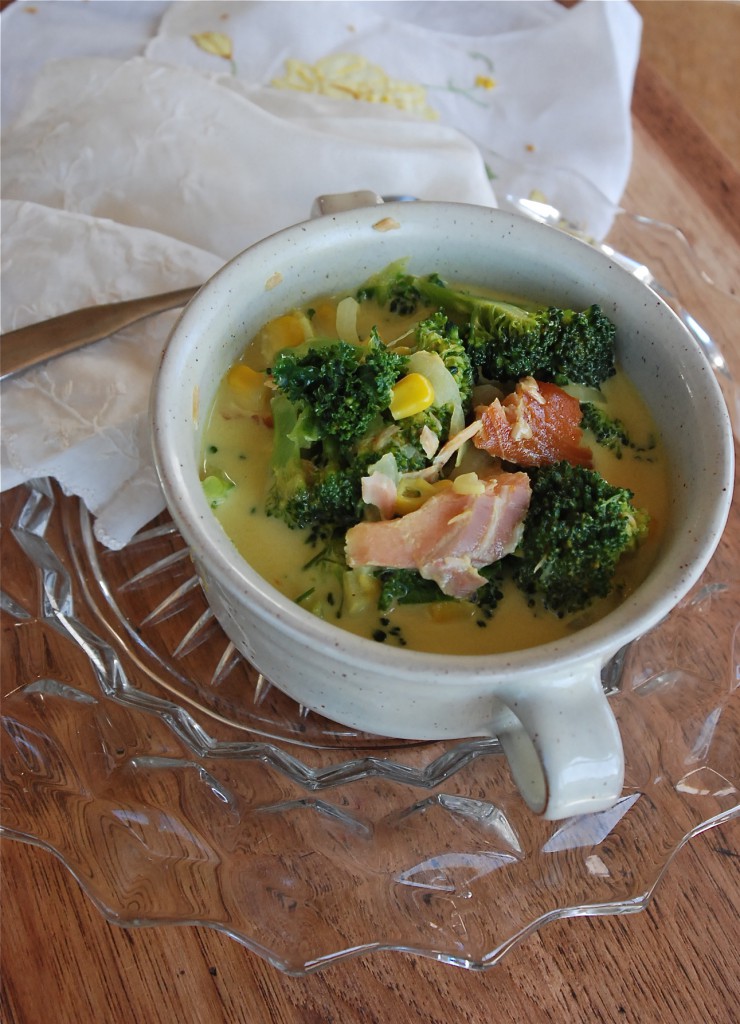 What I'm dreaming about is this succulent chowder, light and refreshing for Spring, brightly colored with vibrant greens and flavored with the rich taste of smoked salmon. This is a simple soup to put together so it won't be interfering with your outdoor time and you won't feel bogged down from it when you finish.
The first time I made this soup I think we darn near polished off the entire pan. What was left over was barely worthy of lunch the following day, and instead of slipping this in the 'Done' pile and never looking at it again, I kept it front and center, and dropped another chunk of lovely smoked salmon in my grocery cart for a second showing. It's a surprising recipe, as on first glance it just doesn't look like a whole lot. Then you lift the spoon to your mouth and taste the coconut milk broth, rich with curry flavor, the delicious vegetables and then, the sharp smoky fish. It's a bit sweet, it crunches and it delights.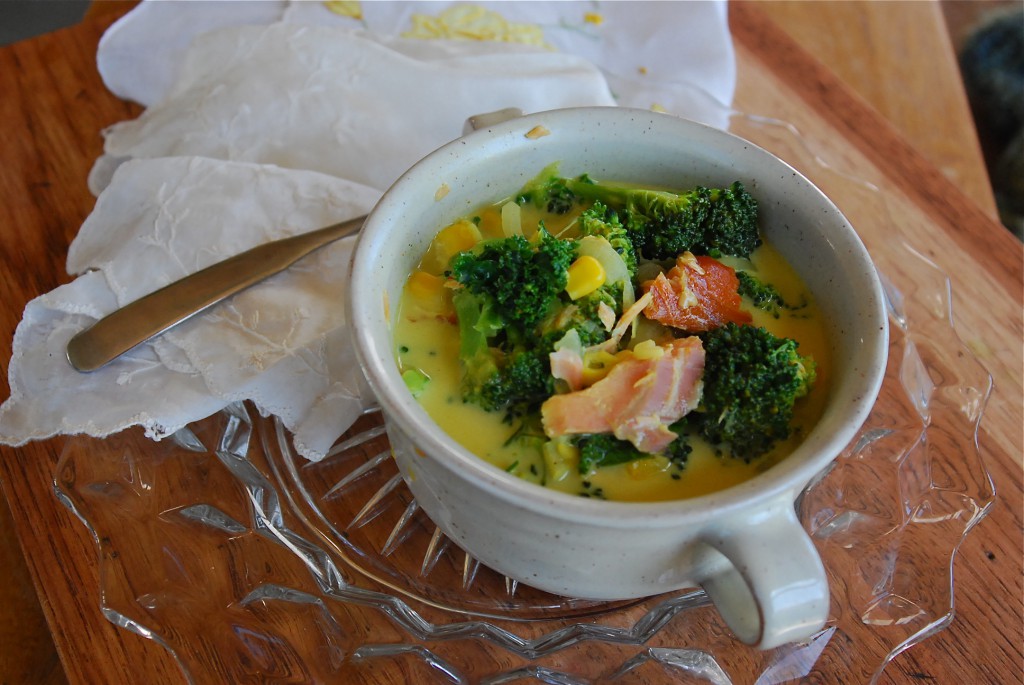 The soup is wide open for your own personal interpretation too, employing just about any vegetable you have on hand. You could skip the smoked salmon if it isn't to your liking, instead adding maybe some grilled shrimp or scallops for a bit of boldness. The curry is completely adjustable too. Add more for a bigger kick, if you like. Or just substitute turmeric to add the bright and sunny color. While I used broccoli and kale, I think green beans and bok choy would be delicious in this soup. Not a fan of corn? Skip it. Add peas instead. Or chunks of dark orange sweet potato. That's the best part of this recipe; it's superbly easy to make it your own.
Curried Vegetable and Smoked Salmon Chowder

Coconut oil for cooking
1 medium red onion, thinly sliced (I've used yellow onion too)
1 jalapeno pepper, cored and seeded, thinly sliced (for extra heat, use a serrano)
1 T. minced fresh ginger
2-4 garlic cloves, finely minced (the amount you use is entirely up to your taste)
2 Broccoli crowns, sliced to bite size (can sub in cauliflower)
2 c. fresh kale, roughly chopped (can sub in baby bok choy, chard or spinach too)
1 c. frozen corn kernels
1/2# smoked salmon
2 T. red curry paste (substitute your basic curry powder if it's all you have)
1 15-oz can light coconut milk
3 c. broth of choice, or water (I filled the coconut milk can twice)
1 T. fish sauce, or fresh squeezed lime juice
1 T. pure honey
Cilantro, basil or mint, fresh lime wedges, crushed peanuts for toppings, if desired

In a medium stockpot with a lid, warm about a tablespoon of the coconut oil and add the onion. Cook, stirring occasionally, until the onion is softened, maybe 10 minutes or so. Add the jalapeno, ginger and garlic and cook for about 5 minutes, stirring. Pour in the coconut milk and broth (or water) and stir together. Then add in the curry paste, fish sauce, and honey and stir well to incorporate, add in the broccoli, kale, and corn. Stir to blend, then bring to a simmer, cover and allow to cook until the broccoli is tender to your liking. Add in the smoked salmon and heat through. Top each soup with some of the fresh herbs, a squeeze of lime juice and chopped peanuts, if you like those. The soup is perfectly fine without them as well.