I've been on a mostly plant-based eating plan for just over a year now and have no intention of ever going back to eating meat on a regular basis. I'm not against having a bit of it here and there if the mood suits me, but with a heightened awareness of how it deeply affected my health, I'm off of the stuff for the long term.
Trouble is, I've been searching for cooking inspiration and while I can find a great deal online in the blogs that I follow, I hadn't come across a really good source until I serendipitously found Michael Natkin's blog, Herbivoracious, and within a day's time was invited to a local book signing with the author. Everyone who attended the event received a complimentary cookbook and several tantalizing bites from the simple and gorgeous recipes in the book.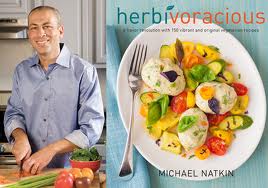 I haven't devoured a cookbook like this in a very long time. I've purchased a few promising vegetarian cookbooks through used book stores, but have come away from them feeling uninspired, or worse, dismayed at the boring recipes. In our current state of food, with a wealth of ingredients available to us, fresh produce everywhere and home cooks hitting up the internet with abandon to share their stories and recipes, we shouldn't feel like pasta and vegetables make up the bulk of a vegetarians meals, but that was the message a lot of vegetarian cookbooks still seem to send. I wanted something that reflected the modern cuisine, full of a wide selection of fresh ingredients, unique spices, terrific grains and a grown-up mentality towards consumption of plant-based foods. Just a few pages in to Michael's book and I knew I'd found what I was looking for, breathing an excited sigh of relief. I immediately started marking pages, rich with inspiration, my mouth already watering over what was to come.
One aspect of this book that I love is that it mirrors my own cooking philosophy, in that a recipe should be a guide, and not a cut and dried interpretation of the finished dish. Michael clearly discusses ways to change up his recipes, suggesting additional ingredients or substitutions and encouraging the reader to utilize what's on hand. Every dish is simple, yet elegant, running the whole range of time needed for completing the recipes from about 10 minutes to pull together an easy salad to longer, in-depth recipes for those special occasions. The book is full of advice on sourcing ingredients, caring for your knives, planning your meals and making your prep easier to manage; he covers so many little details that it makes the book more than just a cookbook, but something akin to treasured kitchen advice. The cover page is gorgeous, but if it gets torn, stained or otherwise in your exploration, the actual cover itself still has it's beautiful logo. I like that in a book.
Even while still at the book signing event, chatting excitedly with a few friends and paging through the book, I came across the Golden Beet Tartare recipe and knew that would be tops on my list. I adore gold beets and it sounded like a delicious summery salad for a hot, sticky day.
I wasn't wrong at all about that. The heat is on, Minnesota. It's time to stay cool, right?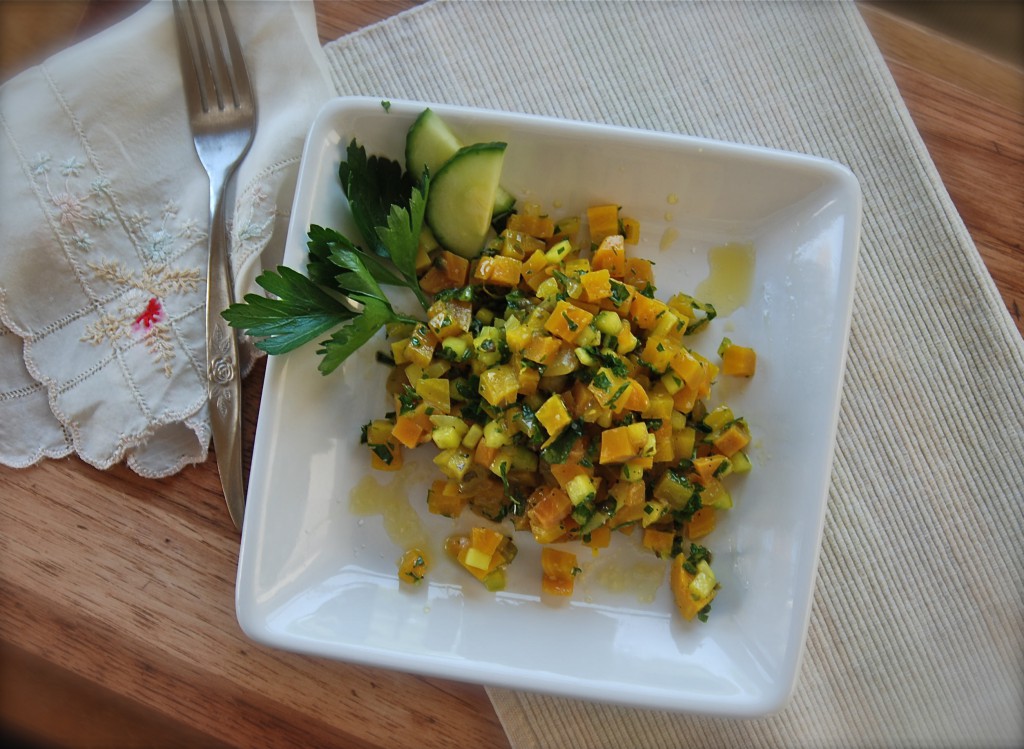 Fresh and bright, this simple salad has crunch and texture galore, the rich earthy taste of beets and mellow cucumber and onion. The original recipe called for raw red onion which I don't ever use as I dislike raw allium in anything, so I substituted grilled vidalia onions with just enough snap remaining. Once it was all pulled together I thought it still needed a bit more color to jazz up the visual aspect, so I finely chopped some kale leaves that gave it the perfect balance.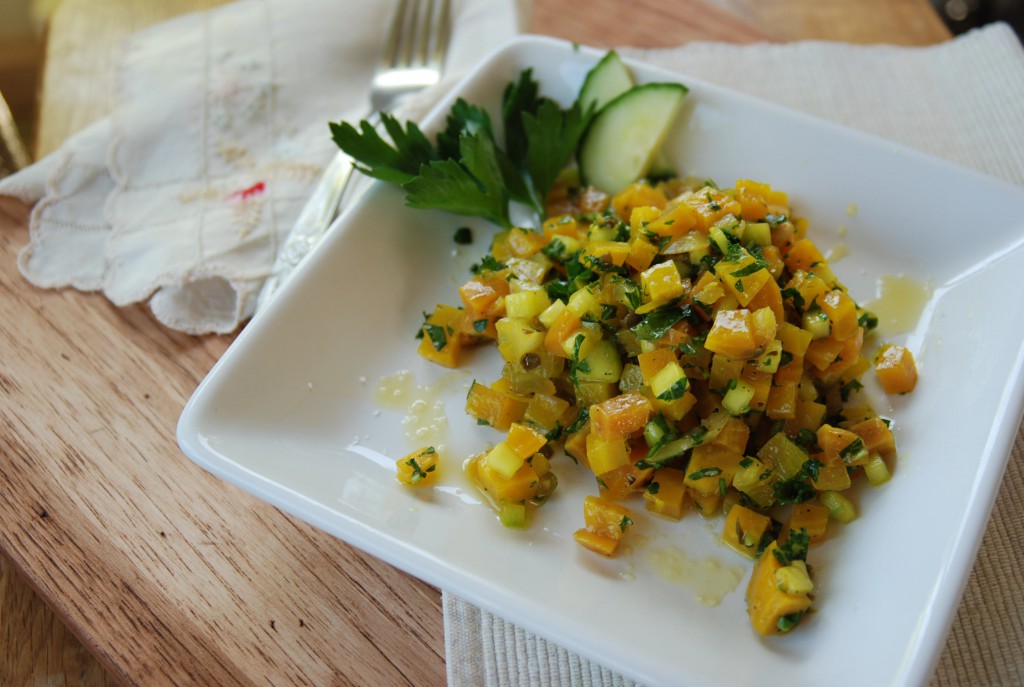 I can foresee this recipe becoming a regular in my kitchen, giving it repeated appearances and endangering my endless love of beets. With the upcoming beet season looming, and such pretty colors and patterns in this nutritious and healthy root vegetable, I vow to practice enough restraint to keep it fresh and desirable so we can continue to enjoy it's benefits. Right now, I'm fighting off the urge to consume the entire container of this salad. A definite winner.
Please visit Michael's site, for his complete recipe for Golden Beet Tartare. I'm going to give you my method, which, as Michael encourages, is my own take on the recipe.
Golden Beet Salad

3 medium beets, tops trimmed (save them and eat them if it's your thing)
1/2 an English Cucumber, peeled and finely diced
1/2 medium Vidalia onion, grilled but still somewhat crunchy, finely diced
1 T. capers, drained and minced
1/2 c. kale leaves, finely minced
3 T. olive oil
1 t. fresh lemon zest
1 T. fresh squeezed lemon juice
1 T. fresh chives, minced
2 T. fresh parsley, minced (I used flat leaf; curly would work just as well)
Sea salt and fresh ground black pepper

Heat oven to 400°. Place a square of foil in an 8×8 baking pan and put beets in the foil. Drizzle with a bit of olive oil and fold the foil over the beets. Roast the beets until a knife inserted in them slips out easily. The time will depend on the size of your beets, but plan for at least 45 minutes to an hour. Allow the beets to cool, then peel and dice them.

In a bowl, add the beets, cucumber, onion, capers, kale, lemon zest and juice, chives and parsley. Drizzle in the oil, add a few shakes of sea salt and grinds of pepper. Stir to combine and taste for seasoning. Allowing the salad to sit for a few hours, or overnight before serving will deepen the flavors. Adjust seasonings before serving.
DISCLAIMER:
I received a complimentary copy of Herbivoracious from attending the book signing event.
All opinions and feedback about the book are strictly my own.