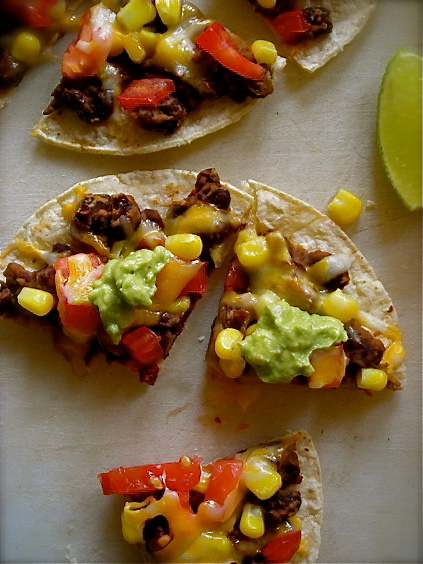 For a simple supper or easy appetizer, these crunchy tostadas are a snap to put together. And they have me craving Summer.
I never complain about the weather. And we've crossed the meridian in to actual Spring in Minnesota, but the weather feels like anything but. Our skies are bright blue, and the sunshine is ample, not to mention warm enough to melt snow on the roads and sidewalks, but the temps ushering in Minnesota's sweetest season have been decidedly Winter-esque, and are leaving everyone on edge. There seems to be a bounty on Punxsatawney Phil's head, the poor Woodchuck. As if any rodent could tell us, really, when a season will truly arrive. The latest 3″ snowfall (wrongly dubbed a 'blizzard' by the weather folks- WHAT?! Honestly…..) caused a great outrage. People are done with Winter here. And I'm not sure why they think that Spring should magically bring warm air and green grass when it comes, but they do. And when it doesn't happen, the things they say are ridiculous. If there is one thing that can never be controlled, no matter what, it's the weather. And complaining makes little difference. I'm sure we'll still see snow through April.
I'm not against the coming of Spring, but given how dry our state was last year, all this snow is welcomed, for the farmers and gardeners  who work the land for our benefit. Still, yesterday, as the wind scoured my cheeks, I felt a grudge forming. And I never hold grudges. My winter coat bores me. My winter clothes bore me. The foods bore me. I'm as eager as the next for the Spring season to show itself, with all the fragrance and color and softness it brings. More so, I'm so, so, so very eager for the appearance of fresh vegetables to return.
This super easy tostada is a late Summer dream, with it's perfect ears of sweet corn and abundant tomatoes. But we're still a ways off from that reality. Frozen corn and a good quality canned tomato make it an exceptionally easy early Spring meal as well. I've used both corn and flour tortilla, and the original recipe, found HERE, is actually a Southwestern style pizza.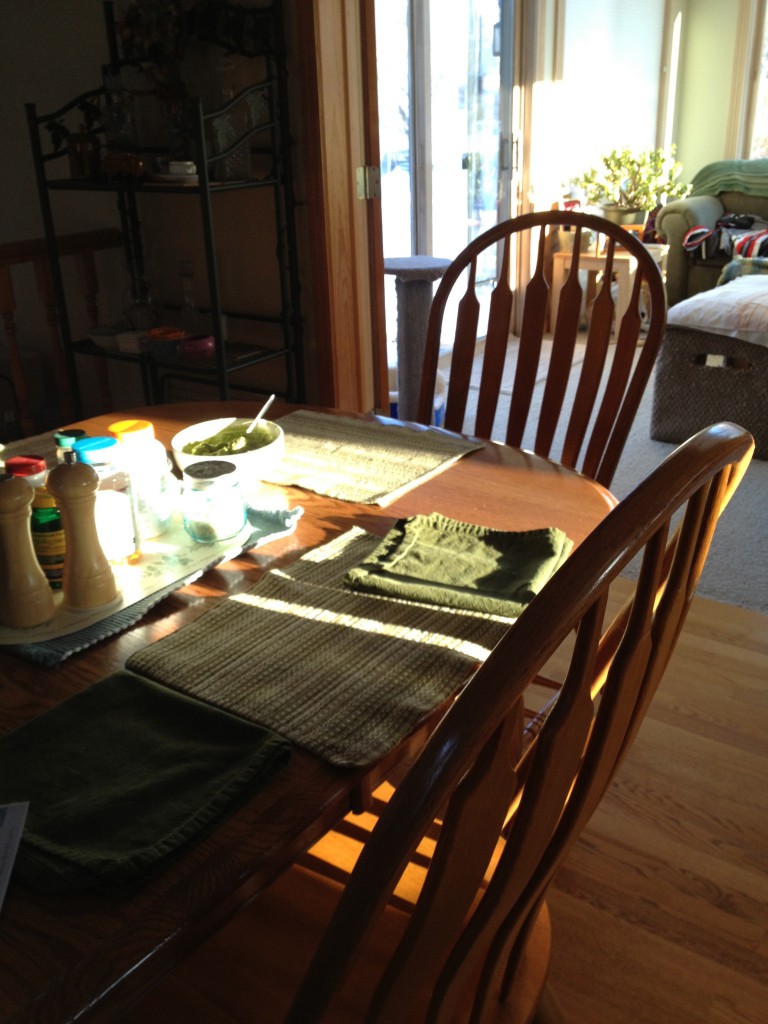 My version, the one that we ate while bright sunlight poured over our dinner table, and a howling wind scrubbed the land outside, brought back a hint of that late season dish, tortillas tossed on the grill outside for a delectable, smoky flavor while corn husks and thin gossamer corn silk floated away on the breeze. The oven replaced our snowed-in grill, and the tomato wasn't near fresh but they were flavorful, and topped with a kicky guacamole, enough to swing the tastebuds momentum closer to warmer days. If I don't have warmth in my weather, at least I can trick my mind in to thinking it's nicer outside.
Black Bean & Corn Tostadas

2 15-oz cans black beans, drained (or equivalent of dried cooked beans)
1 15-oz can fire-roasted tomatoes (my favorite is Muir Glen)
1 tsp. canned chipotle in adobo sauce, minced
1 tsp. ground chile powder
1 tsp. ground cumin seed
1 c. frozen corn, rinsed under cold water to thaw
Shredded cheese as needed
Fresh Guacamole
Flour or corn tortillas, 6″ size. I love the Mission Blue Corn & Flaxseed variety.

Heat oven to 400°. If you have a baking stone, place it in the oven to heat up. You can also use baking sheets. I used a round stone and a stoneware baking pan.

In a medium saucepan, place the beans, tomato, chipotle in adobo, chile powder and cumin. Stir to combine and heat through until warm; it does not have to be hot as the oven will cook it further.

Place tortillas on your baking sheets and allow to heat until firm, flipping over once. When tortillas are firm and slightly browned, remove baking sheets from oven. Spread a small amount of the chipotle in adobo sauce over each tortilla, then spread a spoonful of beans to cover the bottom. Top with a few tablespoons of corn and shredded cheese. Return pans to oven and heat until cheese is melted and the edges of the tortillas are browned. Remove and serve immediately.

For easier topping on the tortillas, you can add the corn directly to the black beans. It's not as pretty, though. This recipe made six 6″ tortillas for us, plus leftover beans for another use.