This dish, if I wanted something really meaty and amazing, would be the first thing I turn to in order to quench that carnivorous desire.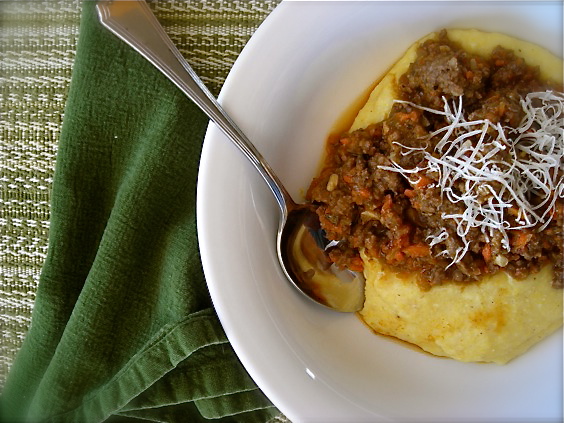 I made this back in late winter, in that transitional time between seasons where it isn't always cold but it's not exactly warm either, and it was perfect to fill our bellies with a heated depth to fend off the last of winter. The flavor is out-of-this-world good; rich and deep and lush on the tongue, and after the initial prep period, this is a no-brainer as it sits on the stove and gently simmers to a thick and delicious dish. Your house will smell amazing, and once it's done, it can be spooned over pasta, grains or egg noodles, or like this version, atop a creamy dish of soft polenta.
With the onset of snow in Minnesota, this is a welcome choice for a cozy dinner.
Hearty Ragù with Soft Polenta

1# each ground beef and ground pork (i used 93/7 ground beef)
1/2 t. salt
1/4 t. fresh ground black pepper
2 small onions, peeled and cut to large pieces
2 carrots, peeled and cut to large pieces
2 stalks celery, with leaves, cut to large pieces
4 cloves garlic, peeled
2 T. olive oil
1 t. crushed dried rosemary leaves
1 14.5-oz can Muir Glen Organic Meridian Ruby tomatoes (or use equivalent of other kind)
1 c. dry red wine
1 quart good chicken stock
1/2 t. ground nutmeg

In a 4-qt dutch oven, brown the meat with salt and pepper over medium heat until no longer pink. Drain fat using a colander over a large bowl. Discard fat, set meat aside.

In large food processor, place onions, carrots, celery and garlic and process until finely chopped. In same dutch oven, add olive oil, vegetables and rosemary, cooking for about 15 minutes or until vegetables start to brown.

Add tomatoes and meat to pan, stir to combine. Cook approximately 15 minutes, until tomatoes darken slightly. Add red wine, increase heat to medium-high and cook until liquid reduces by about half. Add chicken stock, reduce heat to low and simmer, stirring occasionally, for 3-4 hours. Stir in nutmeg in final minutes of cook time.
KATE'S NOTES: For extra richness in this dish, I added about a half cup of heavy cream with the chicken stock. I think it made an exceptional addition. When you add the stock, the mixture will be very loose, like a soup. It will reduce as it simmers though. I did not cover the pan as it cooked, but I doubt it will make much difference, although it may take longer for the liquid to reduce if it's covered.
From Cascina Spinasse, Seattle Washington, and Chef Jason Stratton
from the Muir Glen Tomato Vine Dining Tour recipe booklet
Creamy Soft Polenta

1/2 c. stone ground corn meal
1 c. fat free milk
1 c. water
1 t. butter
Salt and pepper as needed

In a heavy medium saucepan, bring milk, water and butter to a boil then add cornmeal in a thin stream, whisking constantly. Once cornmeal is added, whisk for several minutes to insure smooth consistency. Bring to a simmer, reduce heat to low and cover the pan, leaving lid ajar to release steam. Simmer polenta for about 10 minutes, stirring often to keep it from scorching, then add 2-3 tablespoons of water. Stir to combine, replace cover (leaving it ajar) and simmer for 10-15 minutes more, stirring regularly, scraping the bottom to prevent scorching. Add about 2-3 more tablespoons of water at this point, stir to combine and cook for about 5 more minutes, stirring regularly. Taste for texture; it should be smooth, and not at all grainy. If any graininess remains, add a few more tablespoons of water and cook until smooth. Serve immediately. Makes about 2 servings
KATE'S NOTES: Be aware that Polenta, as it cooks, bubbles like molten lava, and it can be dangerous if not kept partially covered. Keep the heat low to prevent the bubbles from exploding violently. And when you stir the polenta as it cooks, make sure you are scraping the pan bottom thoroughly. I used a flat edge wooden spatula for this. A heat resistant rubber spatula would also be a good option.