Let's think for a moment, about fast, simple meals with a high nutritional content. Let's think about those first minutes in the door after a day at work, when your stomach is beginning to show signs of distress and you don't even want to change your clothes before deciding on dinner. Let's think, for just a minute, that you don't pick up the phone and call the pizza guy.
Instead, you reach for a package of gnocchi.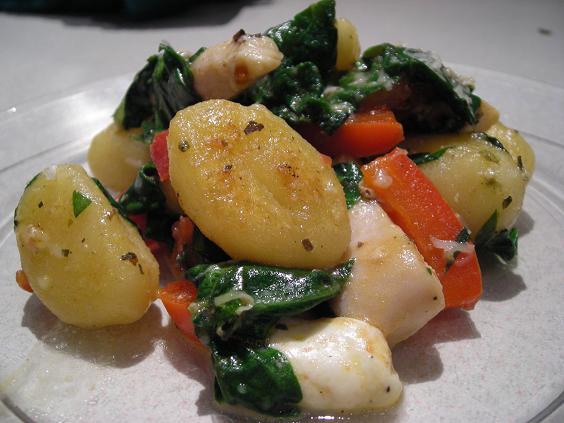 Gnocchi are potato dumplings and extremely versatile. Cooked potato is mixed with flour to form a dough, which is then rolled out and cut into the dumpling shape. The gnocchi are boiled like pasta. They can also be made with yams and sweet potato, possibly squash too. I've never made gnocchi from scratch. From what I understand it can be a bit challenging to get the texture right; too much flour and the dumplings are dense and heavy, too little flour and they fall apart.
Gnocchi can be used in many similar ways as pasta- added to soup, turned into a delicious gratin with assorted vegetables or made into a quick meal, sauteed with your favorite vegetables and boneless chicken breast if you so desire. That's what I did in the photo. It was an amazing dish, and it came together very fast and was full of wonderful flavor.
They're available frozen, or in vacuum sealed shelf-stable packages. I've seen them in regular and whole wheat versions.
Gnocchi In a Flash
adapted from Eating Well magazine
1 pkg shelf stable gnocchi
2-3 boneless chicken breasts, cut to strips (meat is totally optional in this dish)
1 medium red pepper, cored and seeded, cut to strips
1 bunch spinach, washed and de-stemmed (equal to a 10-oz bag)
1/4 c. canned diced tomato with italian seasonings
1/2 c. fresh mozzarella, cut into small dice
1/3 c. fresh grated parmesan cheese
Fresh basil to garnish
Season chicken breast strips with salt and pepper. Heat oil in 10-inch skillet, add chicken and cook, stirring occasionally, until strips are cooked through, about 5 minutes. Remove to bowl. Add red pepper and cook 3-5 minutes until tender. Add to chicken. Wipe out skillet with paper towel and add about a teaspoon of oil. When hot, add gnocchi and cook about 5 minutes until browned and slightly puffy. Add chicken and pepper to pan, and in bunches, add in spinach, stirring quickly until it's all wilted. Toss in diced tomato and mozzarella cubes and shave some parmesan over the top. Stir to mix and allow to cook for 3 minutes or so until hot. Serve immediately topped with fresh basil.
Change up the vegetables according to your preferred tastes.