It's November again. And this morning when I arose, in the dark still silence, to the hum of the furnace and an noisy, eager cat face, the air smelled definitively of the impending winter. Never mind that it might reach near 60 today, or that the sun burns bright in that kind of blue sky that hurts your eyes, the wind that touched my face when I let out our early riser told me 'You know, I could snow at any minute.'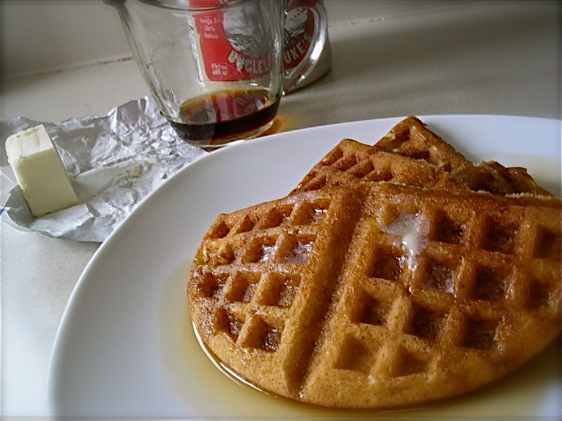 We're pretty fortunate that our Fall has been both spectacular and snowless. The only month without recorded snowfall in Minnesota is July, and with the frost that came so early in September, I felt certain that a drifting white mass would come sooner or later. I've been happy to be so, so wrong.
These Cornmeal Waffles are a favorite cold weather breakfast. First crafted and enjoyed on a crackling, numbingly cold day in January of 2010, they've gained a permanent foothold in my breakfast rotation, the waffle recipe I turn to time and again. With their crisp edges, and the sharp tang of buttermilk contrasting with the deep, rich maple syrup, it's a dance of flavors to awaken you and set you upright, not to mention bolstering you against cold and wind.
The inevitable Winter is just around the corner. Shore up your weekends with foods that bring warmth to your home and fuel for the internal furnace. These waffles freeze beautifully. I always make a double, or even a triple batch so that we have lots of extras on hand.
Do you have a preference for Waffles or Pancakes??
Buttermilk Cornmeal Waffles

1 cup sifted all-purpose flour (sift before measuring)
1 cup yellow cornmeal, preferably stoneground
2 teaspoons baking powder
1 teaspoon baking soda
1/4 teaspoon salt
3 large eggs
2 cups well-shaken buttermilk
6 tablespoons vegetable oil plus additional oil for brushing waffle iron

Into a large bowl sift together flour, cornmeal, baking powder, baking soda, and salt. Repeat sifting 2 more times.

In another large bowl whisk together eggs, buttermilk, and oil. Add flour mixture all at once and whisk just until combined.

Preheat a waffle iron and preheat oven to 200 °F.

Brush waffle iron lightly with additional oil. Spoon batter into waffle iron, using 1/4 cup batter for each 4-inch-square standard waffle and spreading batter evenly, and cook according to manufacturer's instructions. Transfer waffle to a baking sheet and keep warm, uncovered, in middle of oven. Make more waffles with remaining batter in same manner, brushing waffle iron with more oil before adding each batch.

Serve waffles with syrup.
(from Kristin at The Kitchen Sink Recipes, slightly adapted from Gourmet magazine)
What's on YOUR plate this month??